eCommerce Website Development Made Cheap, Fast, and Easy
We help Filipino MSMEs and business owners have their 100% OWNED and Branded Online Store, pre-designed and pre-developed by experts with E-Commerce and Digital Marketing in mind!
Built around the WordPress and WooCommerce platforms, plus our secret tech stack.
If you are a business owner on a tight budget, but need a full-fledged E-Commerce Website or Online Store, this is for you.
No hidden cost. No monthly recurring subscription. Just a one-time payment. Cancel anytime.
…at 10x to 20x cheaper than usual eCommerce website development costs.
Seriously, how does it work?
It's as simple as our 5-step process below.
Wait, what? That's it?
Yes, that's really it! That's why we called it PLUG and SELL, literally.
MSMEs who either hired developers or those who tried creating their online storefronts would agree that the development usually takes weeks or months to complete.
We don't want our customers to experience that. That's why with TekWorx PLUG n SELL, MSMEs can already start selling online, with a full-fledged eCommerce website and automated systems in place, in 7 days or less after sign-up.
And you'll be surprised to know that you can get this through our introductory price of as low as Php 11,980 per Year! That's 10x to 20x cheaper than the usual eCommerce website development costs we charge to our fully-managed clients for projects like this.
All pricing is per-domain basis. Renewable annually. No hidden cost.
We know how frustrating it is to develop an eCommerce website or online store when you don't know where to start and how to do it. We understand that because that's a common dilemma among business owners, particularly those who don't have enough resources to hire and pay a website developer with skyrocketing fees.
With TekWorx Plug n Sell, you don't need to worry about the technical stuff inside because everything has been set up and pre-configured for you. What you just need to do is update the contents to suit your brand, add your payment details, add shipping zones and courier options, and launch the store!
No Technical Background Required
Domain and Web Hosting Included
Your eCommerce website or online storefront must be branded. Not in a free website builder with ugly sub-domain. Thus, you get to have your own branded domains from us upon purchase of any of our TekWorx Plug n Sell packages.
We partnered with a top cloud hosting company in the world that offers superior performance for WordPress and WooCommerce-based online stores. We have dedicated servers that we provision to each customer account. That means you'll have access to your own hosting account via a control panel, specifically cPanel, if you want to tinker around the backend of your eCommerce website. Each account is fully customizable and scalable depending on the size of your store.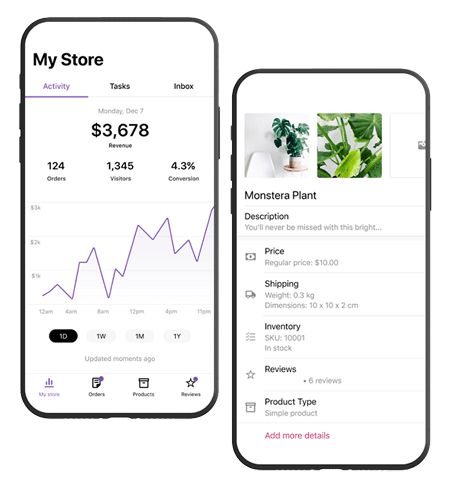 Track Sales and Process Orders on Mobile
Not on desktop? Track sales and process orders from your online storefront right on a user-friendly mobile app.
More Detailed Plans and Inclusions
SELF-SERVE
SUPPORTED
MANAGED
Php 11,980 / year
Php 15,980 / year
Php 23,980 / year,
plus Monthly Retainer
Pre-designed and Pre-developed Online Store
Yes
Yes
Yes
Branded Domain (.com, .net, .org, .info, other TLDs)
Yes
Yes
Yes
Web Hosting with cPanel
Yes
Yes
Yes
Cloudflare CDN
Yes
Yes
Yes
WP Rocket for Pagespeed Optimization
Yes
Yes
Yes
Elementor PRO Page Builder
Yes
Yes
Yes
Production of Content, Logo, Media, and Other Assets
You
You
You
Adding and Updating of Pages / Blogs
You
Us
Us
Adding of Products, Descriptions, and Photos
You
Us
Us
Number of Products
Unlimited
– Up to 10 upon Turn-over
– Client can add unlimited products
– Up to 15 upon Turn-over
– Unlimited Products; Add On-Demand
Order Processing
You
You
Us
Automated Website and Database Backup
Yes, Flexible Schedule
Yes, Flexible Schedule
Yes, Flexible Schedule
Manual Website and Database Backup
You
You
Us
Store Setup Support
Yes
Yes
Yes
Store Management Training
Pre-recorded or Group Session
Pre-recorded or Group Session
1-on-1
Delivery and Turn-over of Online Store
7 Days or Less
7 Days or Less
7 Days or Less
First Come, First Serve Basis
We launched this project in early 2022, and while we continue to develop new online store templates, we also want to make sure that we'll deliver each month. Thus, for June 2022, we'll only accept the first 30 MSMEs or organizations who will signup by June 30th, 2022, whose online stores will be delivered by July 2022.
If you are interested, but no more slots are available, join the waitlist and we'll contact you as new slots become available.
No problem! We seriously love teaching and training our clients and customers. If you need it, you will have it directly from us. Contact us to book a session.
Why Website-based Online Store?
We advocate for 100% "owned media", or 100% owned eCommerce website. As a business owner, you must have full control of these valuable assets. Your website must be the first and last channel in your online presence.
We have a very ambitious roadmap in enabling more and more local MSMEs and business owners in the Philippines. And for TekWorx PLUG n SELL, starting with an eCommerce website is just the first step. We'll continue to work with other tech vendors and partners so we can launch other innovative products in the process.
The company is called TekWorx.Digital, under the leadership of its founder and owner Bert Padilla. TekWorx Plug n Sell is a product of TekWorxPH.com — an assertive E-Commerce Development and Digital Marketing Partner for Decisive MSMEs / SMBs in the Philippines and abroad.